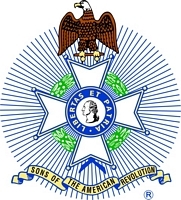 Some of you may know that I am an active member of the National Society Sons of the American Revolution (NSSAR).  To be a member you must be able to prove direct descent from an individual that either fought for or in some other manner supported the American cause in the Revolutionary War.  I became an approved member on April 12, 2008.  The first patriot that I used to join with is Joseph Towler.  Joseph served in the Virginia Army, and also donated materials in support of the cause.  
Once a member of the NSSAR, you can document other patriots by submitting so called "Supplemental Applications".  These are not required, instead, they just provide a means to verify and document other patriots in your family tree.  Before today I had 6 approved Supplemental Applications: 
Today I just received word that I have had two additional patriots approved!  These two additional include my first female patriot and John Tinsley's Father.  The approved are:
John Sorrell:   Provided material support in Amherst county, Virginia.  3 different donations of beef, 375 pounds, 285 pounds, and 275 pounds (935 total)
Martin Dawson:   Provided material support in Amherst County, Virginia.  A donation of 200 pounds of beef.  
These are great examples of individuals that did not fight in the war, but donated in support of the cause, and thus someone is eligible to join the NSSAR (and likely the NSDAR as well) using these individuals as patriots.
These mark the 7th and 8th supplemental applications that I have had approved, meaning I have documented 9 total patriots thus far.  I have to give some of the credit to a cousin who is in the NSDAR and has done a lot of the leg work on some of these individuals.
The source for these 2 individuals service (or support in this case) came from one of my favorite Genealogy reference books, Virginia Revolutionary Publick Claims Vol. 1 - 3 by Janice L. Abercrombie, Richard Slatten.  These books are an amazing source of information, as they document individuals that donated to the cause.  Examples of support include housing soldiers, donating beef, wagons, food, grain etc.  They also help tie an individual to a location and date, as the claims had to be submitted to the county from which the support was made.  I highly recommend checking out these books, as they are great sources.