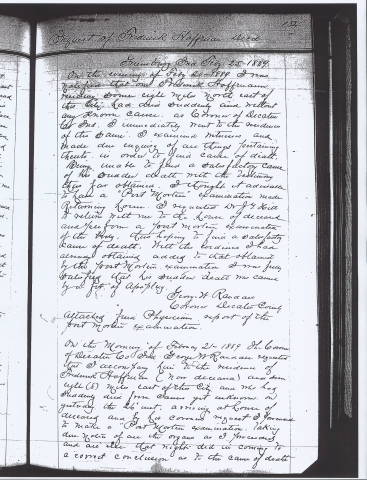 One of my ancestors is Frederick Hoffman.  Frederick died on this day 123 years ago.  On February 25th, 1889 in Indiana Frederick Hoffman died sudden and unexpectedly.  While searching for information the Hoffman's I found an interesting record for Frederick Hoffman.  The record is a type that I had (and still have not seen an other) before, an official Coroner's Inquest.
What is a Coroner's Inquest?
A Coroner's Inquest is an inquiry into the manner and cause of an individual's death.  Apparently he died unexpectedly, and there was little concern from his family members.  An obituary in the Greensburg Standard dated March 1, 1889 indicated that:
The post-mortem examination of the body of Frederick Hoffman, who lived about eight miles east of this city, resulted in the finding by Dr. J. Y. Hitt that the deceased came to his death from apoplexy.  There was a small amount of opium salt in the stomach but not sufficient to cause death. The post-mortem was held on account of the peculiar circumstances under which Mr. Hoffman died, the seeming unconcern of his family about him and the openly expressed belief of some of the neighbors that his death had not resulted from natural causes.
The obit mentions a Coroner's inquest, and I was able to find the Inquest in the records at the Family History Library in Salt Lake City, Utah.  The inquest record that I have are just images, with no transcription provided, so I had to do my own. For the most part it was a fairly straight forward, but there were a few sections that were a little difficult to understand. See my transcription below:
Greensburg Ind. Feb 25-1889

On the evening of Feb 20-1889 I was notified that one Frederick Hoffmann [sic] residing some eight miles north east of this city had died suddenly and without any known cause. As coroner of Decatur Co. Ind. I immediately went to the residence of the same. I examined witnesses and made due inquiry of all things pertaining thereto in order to find cause of death. Being unable to find a satisfactory cause of his sudden death with the testimony thus far obtained I thought it advisable to have a "Post Mortem" examination made Returning home I requested Dr. J G Hill to return with me to the house of deceased and perform a post mortem examination of the body thus hoping to find a satisfactory cause of death. With the evidence I had already obtained added to that obtained by the post Mortem examination I was fully satisfied that his sudden death was caused by a fit of apoplexy.

George W. Randall

Coroner Decatur County

Attached find Physicians report if the post mortem examination

On the morning of February 21-1889 The Coroner of Decatur Co. Ind George W Randall requested that I accompany him to the residence of Frederick Hoffman (now deceased) and some eight miles east of this city and who had suddenly died from causes yet unknown on yesterday the 26 *** arriving at house of the deceased and by his corners requested I proceeded to make a "Post Mortem examination. Taking due notice of all the organs as I proceeded and all else that night did in coming to a correct conclusion as to the cause of death.

The stomach was taken out and internal organs examined except slight congestion on a limited portion of some of the organs. Otherwise all were in normal condition. Bringing the stomach to my office where I proceeded to make a thorough analysis as circumstances and conditions admitted.

Found in stomach 4 ¾ oz of a thick opake [sic] gelatinous mass which by test showed strong acid reaction. In this fluid their seemed to be a small quantity of opium or its salt – to small however to do much if any harm. The superficial wounds were on his face. One slightly to the left of left eye. And but thaw the abrasion of the skin. The other slightly larger and beter above the left eye. Neither could be of any consequence. Face flushed capillary ***sis engorged eyes red and con-junction congested. The external jugular vein abnormally full with a history of sir th**facts and the condition found by the post mortem I am led to the conclusion and by state as my diagnosis that the cause of his death by apoplexy.

Greensburg Indiana J. G Hill MD

Feby 22 1889 Holder of Post Mortem

 

Filed and Recorded in Clerks Office

March 5 1889 J.M Thomson Clk
Below are the sections that I am still having issues with transcribing... let me know what you might think these are.
I think that says 154, but I am not sure
This says: yesterday the 26' XXXX  not sure what the word after 26 is..
This is clearly a medical term... but it says: capillary XXsosis engorged eyes.  Not sure what the xxsosis word is...
Last but not least the Doc's signature.
Based on the Obit in the newspaper, it might be J Y Hitt, I was thinking J G Hill....  what do you think?
You can see the transcription that I have done here on my familytree site.