Today is Poem In your Pocket day, a day that has been decreed so by Poets.org.  April is National Poetry month, and in honor of that Poets.org has declared that today is poetry in your pocket day.  They state:
Celebrate national Poem In Your Pocket Day on Thursday, April 26, 2012!  The idea is simple: select a poem you love during National Poetry Month then carry it with you to share with co-workers, family, and friends. You can also share your poem selection on Twitter by using the hashtag #pocketpoem.  Poems from pockets will be unfolded throughout the day with events in parks, libraries, schools, workplaces, and bookstores. 
You can read more about it here on their page.  
So in the spirit of the day, I offer this poem:
The Bridge Builder by Will Allen Dromgoole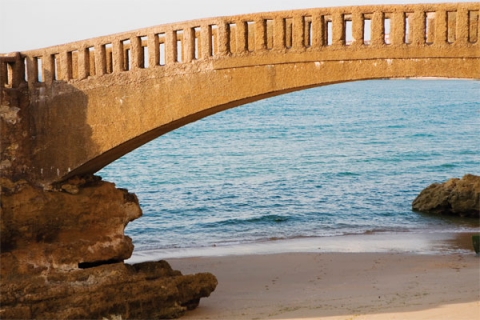 An old man, going a lone highway,
Came, at the evening, cold and gray,
To a chasm, vast, and deep, and wide,
Through which was flowing a sullen tide.
The old man crossed in the twilight dim;
The sullen stream had no fear for him;
But he turned, when safe on the other side,
And built a bridge to span the tide.
"Old man," said a fellow pilgrim, near,
"You are wasting strength with building here;
Your journey will end with the ending day;
You never again will pass this way;
You've crossed the chasm, deep and wide-
Why build you this bridge at the evening tide?"
The builder lifted his old gray head:
"Good friend, in the path I have come," he said,
"There followeth after me today,
A youth, whose feet must pass this way.
This chasm, that has been naught to me,
To that fair-haired youth may a pitfall be.
He, too, must cross in the twilight dim;
Good friend, I am building this bridge for him."