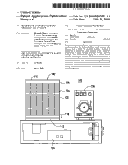 As of 24 April 2012, I am officially an Inventor, as declared by the United State Government!
How is that you might ask?  Well I was lucky enough to be part of a team of individuals that worked to produce a new piece of equipment that can  be used in Science.  We then filed for a patent on the machine, and now that patent has undergone prosecution (think examination), and has been issued!  We (the team) originally filed this patent in April of 2009, and it was just now issued.  
The patent was issued to Vandalia Research, and I am listed as an Inventor on the patent.  Here are some of the details about the patent:
USPTO number: US8163489
Application number: 12/384,554
Publication number: US 2010/0267091 A1
Filing Date: Apr 6, 2009
Issued Date: Apr 24, 2012
Google does a great job of looking up issued patents, so if you are interested you can look here:  www.google.com/patents.
A Short summary of the patent is:
Disclosed herein is an efficient, high speed production scale synthesis method for high molecular weight organic substances, such as DNA. The invention includes a method of conducting a polymerase chain reaction which comprises transporting a liquid through polymeric tubing disposed through a first reaction cycle region and at least a second reaction cycle region, each of which regions comprises at least a first and a second temperature zone, the temperature in each zone of said at least second region being substantially identical to the corresponding first and second zones in said first region, wherein said liquid is an aqueous solution comprising polymerase chain reaction reactants and a surface absorbing polymer.
Cool stuff!