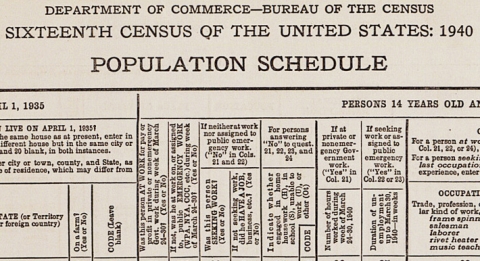 So today is the day, after a 72 year wait the 1940 Census is here.  It's a big day for a lot of genealogists around the country (and perhaps world) because today at 9:00 am the 1940 US Census is made public. It is my understanding that this is the first time that the census is being released on day 1 as digital images.  Previous releases were done using microfilm.   The National Archives (NARA) is providing access to the images free of charge.  NARA is working with Archives.com to host the images.  The scale of the project is huge, with the 1940 US census containing over 3.8 million pages.  You can start searching the 
collection here.
The NARA website states:
Census records are the only records that describe the entire population of the United States on a particular day. The 1940 census is no different. The answers given to the census takers tell us, in detail, what the United States looked like on April 1, 1940, and what issues were most relevant to Americans after a decade of economic depression.

The 1940 census reflects economic tumult of the Great Depression and President Franklin D. Roosevelt's New Deal recovery program of the 1930s. Between 1930 and 1940, the population of the Continental United States increased 7.2% to 131,669,275. The territories of Alaska, Puerto Rico, American Samoa, Guam, Hawaii, the Panama Canal, and the American Virgin Islands comprised 2,477,023 people.
Even though the 1940 census is being released today, there are no Index's as of yet.  What does that mean?  You will have to search by enumeration district, and then page by page to find your ancestors.  Now that the records have been made public, expect the indexing effort to start full force today as well.  Familysearch.org, Archives.com and findmypast.com are joining forces to create an Index for the 1940 census records.  You can read a little more about the effort on Archives.com blog post here:
With that said, do not count Ancestry.com out of the game either.  Ancestry.com has promised to make the 1940 census records available to users free of charge through at least 2013.  It's an exciting time for US genealogy.
Who are you going to look for?
Happy hunting.