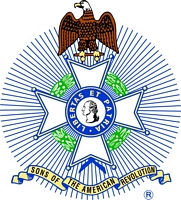 So I have to admit, I knew this was coming, but today, Ancestry.com made it official.  NSSAR applications and lineage documents have been digitized by Ancestry.com and are now included as part of Ancestry.com's extensive collection.  For a short period of time (Until July 4th), there will be "Free" access to the records.  What is not really advertised is that this is not all of the applications, but rather all of the applications up to about 1970 or so.  I am not sure on the exact date, but you get the idea.
The documents are not what I would consider "primary sources" but they can offer some great clues.  To become a member you must be able to trace your family tree back to a point of having an ancestor who supported the cause of American Independence during the years 1774-1783.  You then will need to "Prove" each generation with a document (Census record, Family Bible etc.) and list those "Proofs".  This information is included on the applications, so they are a great source of information and could potentially identify a new source for you.
The Ancestry.com announcement states: "...Nearly 165,000 members of the Sons of the American Revolution(SAR) can trace their family tree back to an ancestor who supported the cause of U.S. Independence during the years 1774-1783.  Founded in April 1889, the Sons of the American Revolution seeks to honor the people and events of the American Revolution, and inspire the community with the principles on which our nation was founded.  Its members include 16 former U.S. Presidents, including Theodore Roosevelt and Harry S. Truman as well as famous generals like Douglas MacArthur and John J. "Black Jack" Pershing, and even notable world figures like Sir Winston Churchill and Juan Carlos I, King of Spain.  ..."
The Ancestry.com website will not let you Save the image or print the image because of the agreement with the NSSAR.  If you would like a copy of an application that you find online, you can visit the NSSAR website and order a record copy of the application of interest on this page.  As an aside, I have mentioned previously (here and here) that I am the webmaster for NSSAR, so I am interested to see how this new promotion affects the traffic to the SAR website, and what kind of additional support it may require.   We shall see.
You can see the Ancestry.com press release in full here.  
Dick Eastman wrote about it here